A bit of history about Buckhead – Atlanta, GA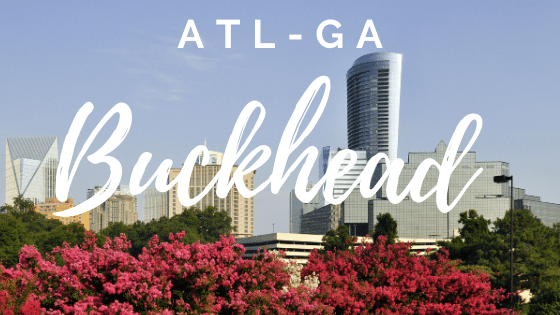 ​Allegedly getting its name from one of it's earliest founders, Henry Irby, purchased a lot of land in 1838 and created a tavern and grocery story near Paces Ferry and Peachtree Rd.  It is rumored that Mr. Irby had prominently put a bucks head on display and the locals came to know this famous "Irbyville" spot as ' Bucks Head'.   Henry Irby maintained his ownership till he passed in 1879.   In the 1890's residents and visitors knew the area as "Atlanta Heights" and that name stuck with the area until the 1920's. Much of the area after that time was sparsely populated with vacation and seasonal homes set on large plots quite a distance from the roads.
In 1952 Buckhead was annexed by the City of Atlanta and is home to some of the finest luxury homes in the Southeast as well as the GA Governors Mansion.  It has a solid reputation for some of the best shopping at Lenox Square,Phipps Plaza (both built circa 1959 and thereafter) and other well established centers.  In fact the areas around Lenox, Peachtree and Piedmont Roads boasts upwards of $3 billion dollars in consumer buying power each year.
Education
Primary and secondary schools
Public schools in Buckhead are administered by Atlanta Public Schools.
The following public elementary schools serve Buckhead:
The area is served by Sutton Middle School and North Atlanta High School.
Prominent Private Schools are
Are you or your family avid readers?   There are a number of chartered Little Free Libraries scattered throughout the Buckhead Area in which you can find by utilizing their search filters to search the Buckhead Zip codes of 30305, 30327, and portions of 30309.  Be sure to stop by any of these little libraries and donate your old books (they are often in need of children's books) and take what you need for your own reading pleasure.
Things to do outside in Buckhead Atlanta. 
Do You Have A Home To Sell in Buckhead - Atlanta?
Receive a free home valuation to see what your home may sell for in this crazy Atlanta real estate market and contact me today as I would love for you to lead me on a tour and tell me what is unique about your property and why you love it?
Check out Lonnie's profile as an active member of The Institute for Luxury Home Marketing.  Looking for that perfect dream home? Contact Lonnie today!
Homes & Properties for Sale in Buckhead – Atlanta, GA
Below is the Rolling Monthly Sales Average for Buckhead "Subdivision" in Atlanta.